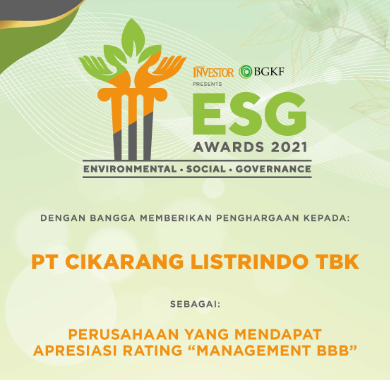 6 Companies Achieved the "Leadership AA and A" ESG Disclosure Awards 2021
Public News|October 27, 2021
Jakarta, October 27, 2021 - Six companies received the "Leadership AA and A" ratings at the ESG Disclosure Awards 2021. Three companies received "Leadership AA" rating, i.e. PT Pupuk Kalimantan Timur, PT BPD Jawa Barat and Banten Tbk, and PT Pupuk Indonesia (Persero) Tbk; and three others received "Leadership A" rating, i.e. PT Bank Rakyat Indonesia (Persero), PT Pertamina (Persero), and PT Austindo Nusantara Jaya Tbk.
The ESG Disclosure Awards 2021 is an award event held by Investor Magazine - Berita Satu Media Holdings (BSMH) in collaboration with Bumi Global Karbon Foundation (BGKF). "This award is given as an appreciation to the companies that are committed to ESG (Environment, Social & Governance) disclosure. This year is the second year for BSMH to hold the ESG Awards," said the BSMH News Director-Primus Dorimulu, on the sidelines of the virtual ESG Awards 2021, Wednesday (27/11). This event was broadcasted live by BeritaSatu TV.
ESG, according to the BGKF Founder-Ahmad Deni Daruri, has been an important issue to be concerned for the community, government, and business player. The ESG Awards event, apart from giving appreciation to companies, can also be a medium of socialization to the companies, governments, and communities regarding the importance of ESG.
In addition to the six companies that received the "Leadership AA and A", there are six companies entitled for the "Management BBB" rating, 5 companies entitled for "Management BB", 3 for "Management B" rating, 10 for "Commitment CCC", 37 companies for "Commitment CC", 42 for "Commitment C", and 10 for "Awareness" rating.
The six companies awarded with the "BBB Management" rating are PT Bank BTPN Tbk, PT Bank CIMB Niaga Tbk, PT Indo Tambangraya Megah Tbk, PT Cikarang Listrindo Tbk, PT Asia Pulp & Paper, and PT Bumi Resource Tbk. The five companies awarded with the "BB Management" are PT Vale Indonesia Tbk, PT Bumi Resources Minerals Tbk, PT Aneka Tambang Tbk, PT Bukit Asam Tbk. Meanwhile, the three companies awarded with "Management B" rating are PT Bank Tabungan Negara (Persero) Tbk, PT Datascrip, and PT Bank Mandiri (Persero) Tbk.
In addition, there are also special awards for the companies with special assessments, such as best disclosure and pioneer. PT Pupuk Kalimantan Timur awarded for the "Best ESG Disclosure", PT Bank Rakyat Indonesia (Persero) Tbk awarded for the "Best ESG Disclosure" from state-owned banks category, and PT BPD Jawa Barat and Banten Tbk awarded for the "Best ESG Disclosure" from BUMD – local government owned companies category.
Meanwhile, in the pioneer category, PT Jakarta Propertindo (Perseroda) received a special award as "ESG Pioneers in Urban Sustainability Reporting", and PT Aplikasi Karya Anak Bangsa (Gojek) received a special award as "ESG Pioneers in Multi Service Platform & Digital Payment Company".
33 Criteria
The calculation of the ESG disclosure score is carried out through sustainability reporting analysis to determine the level of ESG transparency using the relevant ESG factors. "BGKF has identified 33 main ESG factors based on regulatory studies, international agreements, and reporting standards," said Deni Daruri, founder of BGKF.
Among other, it includes the criteria for leading ESG factors from The Nasdaq Helsinki Capital Market, the framework and provisions of TCFD (Task Force on Climate-related Financial Disclosures) and CDP (Carbon Disclosure Project). These factors are considered to greatly affect the company's sustainability reporting and the way to maintain sustainable business operations.
The criteria for "Environment" include greenhouse gas (GHG) emissions, GHG intensity, energy consumption, energy intensity level, mix of energy types, water consumption, PPP (regulations, procedures, and processes) regarding the environment, supervision of the environmental board of directors, senior environmental management supervision, management and investment analysis on climate and environment, corporate responsibility in forestry.
The "Social" component includes CEO salary comparisons, cross-gender salary comparisons, employee turnover percentages, gender diversity percentages, percentage of temporary workers, non-discrimination regulations, procedures, and processes, injury or accident rates, occupational health and safety levels, child labor, human rights regulations, procedures, and processes, CSR in the community.
In "Governance" includes diversity of board members, independence of the board from the control of other parties, monetary incentives related to sustainability, protocols and collective bargaining agreements, third party codes of ethics, ethics & compliance with anti-corruption laws, privacy and protection of personal data, sustainability reports, disclosure mechanism, guarantee of independence, and tax transparency.
This year, said Deni, BGKF conducted an assessment and gave appreciation to all companies listed in the nominations for the ESG Disclosure Awards. The aim is to appreciate all companies that have disclosed ESG aspects. BGKF notes that from the 120 SR (sustainability reports) in 2020 that are available in public, there are 7% still integrated with the AR (Annual Report). The rest (93%) already separate their SR from the AR.
Sumber: Investor Daily (English version translated by the Company)