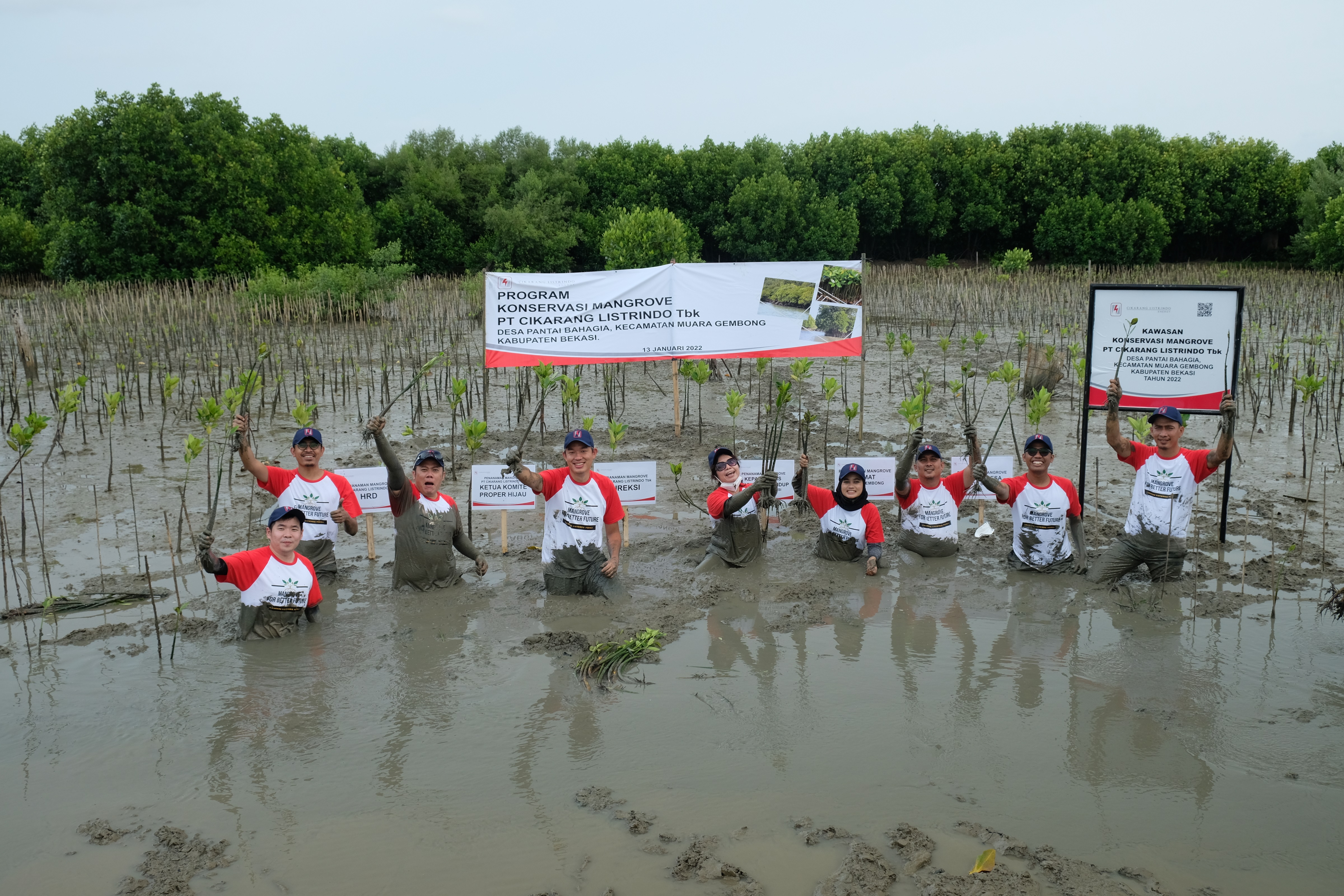 Cikarang Listrindo Plants Mangroves in Muara Gembong
Public News|January 14, 2022
Jakarta, January 14, 2022 - As an early start of 2022, PT Cikarang Listrindo Tbk (IDX: POWR) begin it with the spirit of "Light that Brings Goodness". The Company completed its final stage in the planting of 5,000 mangroves for Pantai Bahagia Village, Muara Gembong Sub-district located in North Coast, Bekasi Regency, West Java Province.
Pantai Bahagia Village is a village affected by seawater abrasion and has entered the residential areas with nearly 500 families who are always affected by flooding during high tides and around 150 families even lost their homes due to severe damage to their houses.
The spirit of kindness has been nurtured and in line with the Company's cultural values, namely STAR (Service, Trustworthiness, Accountability, and Reliability). Since 2018, the Company has been planting mangroves in stages and continuously for the total commitment of 5,000 mangroves to be completed in early 2022.
Mangrove planting is an important solution to overcome environmental issues that occur, with hoping the habitat for living creatures will gradually improve therefore the environmental ecosystem of the area will recover.
The Company will continue to carry out sustainability programs in various aspects to achieve the Company's commitment to sustainable business management and care for the environment, social and good corporate governance.
On January 13, 2022, the Company symbolically carried out the final stage of mangrove planting represented by Christanto Pranata as the Company's Board of Directors and the representatives from DLH Bekasi Regency.
To ensure the mangroves plant can grow well and the mangrove conservation will provide optimal results to the community, the Company is collaborating with the local organization in Pantai Bahagia Village, namely Kelompok Sadar Wisata (Pokdarwis) will assist the Company's internal Corporate Social Responsibility team to monitor its daily development.
Source: Berita Satu (English version translated by the Company)