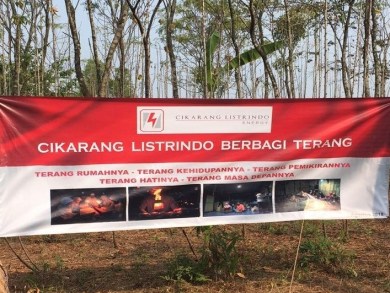 Cikarang Listrindo Sharing the Light
Public News|August 14, 2018
Karawang, Agustus 14, 2018 – PT Cikarang Listrindo Tbk (POWR) has once again demonstrated its commitment in implementing corporate social responsibility in the activity titled "Cikarang Listrindo Berbagi Terang" aimed at residents of Kampung Cilele, Puseurjaya Village, Telukjambe Timur District, Karawang Regency, West Java. Puseurjaya Village is a remote village that has not yet been electrified, causing the residents the lack of adequate lighting facilities. At night, the residents are only illuminated with light lamps powered by solar which smells pungent and smoky, and can affect the respiratory health especially for children.
Under these conditions, the Company shares the light with community in Cilele Sub-Village, Puseurjaya Village which is intended for 100 (one hundred) houses in the form of lighting facilities (lamps) and 1 (one) battery unit for each house, and 1 (one) generator for one village. This set of lighting and batteries uses Community Independent Electricity (Limar) lamps which is a product of the Pilar Peradaban Foundation. The Limar lamp has advantages over electric lights in general because these lamps use batteries (accumulators) as basic power, and its brightness is 10 (ten) times higher than the basic power. Thus, with the use of this lamp, residents can save electricity costs significantly. Residents only need to pay around Rp2,000 (two thousand Rupiah) to Rp5,000 (five thousand Rupiah) each month to refill the battery with the generator set that the Company has provided.
With the same vision in the activity under the title "Cikarang Listrindo Sharing the Light", the Company and Pilar Peradaban Foundation work together to reach remote areas that need lighting. The company hopes that this activity can improve the quality of community quality of life, education level, health quality, environment development and economic growth around the Company's area. This is also a form of concern for the Company and Pilar Peradaban Foundation for the Indonesia homeland to advance the welfare of people in remote areas and assist the Government to reduce poverty.
Commercial Director of the Company, Mr Matius Sugiaman said, "We are grateful for the support from member of House of Representatives (DPR) Commission VI, Mr. Daniel Lumban Tobing, who supported and participated in our activity, "Cikarang Listrindo Sharing the Light". Sharing the light with 100 (one hundred) houses in Kampung Cilele, Puseurjaya Village is the Company's commitment to contribute for those living in the remote communities. Every year the Company has a program in participating in building Indonesian communities such as providing and repairing social facilities, participation in religious activities, providing health services and improving the Indonesian's quality of education and culture."