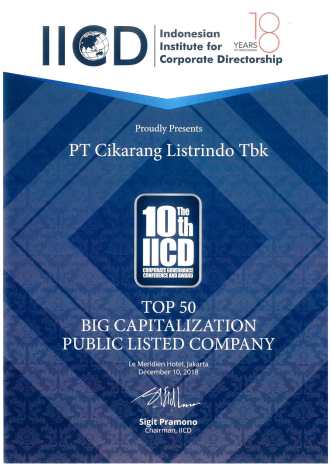 Cikarang Listrindo Receives an Award in the 10th CG Conference & Award 2018
Public News|December 11, 2018
Jakarta, December 11, 2018 – PT Cikarang Listrindo Tbk (POWR) was awarded as one of the "Top 50 Issuers with the Largest Market Capitalization" in an appreciation night titled The 10th IICD Corporate Governance Conference & Award 2018 organized by the Indonesian Institute for Corporate Directorship (IICD) in collaboration with Kontan Media Group in the Sasono Mulya Ballroom, Le Meredien Hotel Sudirman, Jakarta December 10, 2018.
In an effort to improve corporate awareness of the practice of Corporate Governance (CG), IICD organizes this eve nt annually, aimed at public companies with the highest commitment to Good Corporate Governance. On this occasion, IICD carried out an assessment and appreciation of companies that apply the best governance practices to 200 issuers with the largest and medium-sized market capitalization of the Top 50 category of Issuers with the Big Cap and Medium Capitalization with the best CG practices in 2017, of which there are 24 Big Cap issuers among the Top 50 and 23 best Mid Cap issuers who will receive the award.
The event also featured the theme "Bringing About Corporate Governance Changes: Opportunities and Challenges for Directors", on this occasion presented by Ms. Sri Mulyani, Miister of Finance of the Republic of Indonesia,saying, "The foundation of the importance of CG will be increasingly enforced. By building good CG, building competitiveness in the Indonesian economy requires decades of policy consistency. This is what continues to be built step by step for the Indonesian economy will be increasingly and continuously strong."
For the Company, this award is a form of appreciation to the company and a reminder to consistently implement GCG, based on five (5) principles, namely: Transparency, Accountability, Responsibility, Independence, and Fairness.