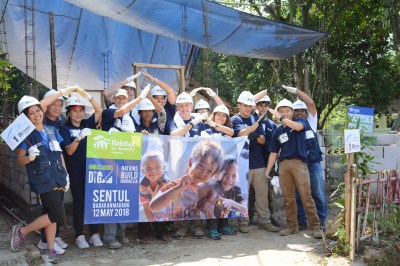 Cikarang Listrindo Responds to Community Needs by Building Livable Houses
Public News|May 21, 2018
Jakarta, May 21, 2018 – PT Cikarang Listrindo Tbk (POWR) continues to show its commitment in implementing corporate social responsibility programs in mutual cooperation to build livable houses for marginalized communities organized by Habitat for Humanity Indonesia (Habitat).
Habitat is an international, non-governmental and non-profit organization dedicated to reduce the improper housing by building simple, decent and affordable houses.
An activity entitled "Ambassador Dig" was a mutual cooperation activity to build 11 livable houses which was held in one day on 12 May 2018 located in Cijayanti Village, Babakan Madang District, Sentul, Bogor Regency. This activity was also attended by 11 ambassadors and diplomatic corps representatives from friendly countries as well as volunteers from representatives of various corporations and other institutions.
One of the Company's business culture is serving where the Company is committed to be ready to help others to be better, to show cares and attention to others and the environment and to be sincere in providing services. This culture is a base for the Company's solid management to always participating in building Indonesian societies.
The Company's Commercial Director said, "Business success is not only measured by the Company's good business performance but also by its ability to give a positive impact to the society. By participating in this program, the Company strives to provide the needs of the community for livable houses and instill values ​​of care, collaboration and mutual cooperation in helping the environment around us."
The Company's commitment to social responsibility aims to provide social value added in a sustainable manner, by improving the quality of education, health, environmental development and life of the community. The Company understands that this requires a long term commitment. Every year the Company always has programs to participate in developing Indonesian societies, such as construction and development of public facilities, participation in religious activities, provision of health services and improvement of the quality of education and culture of the Indonesian people.