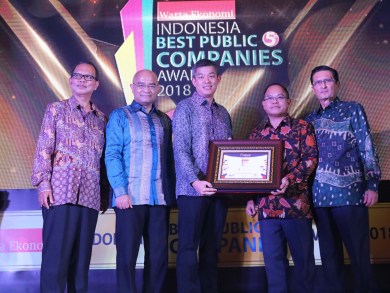 Cikarang Listrindo Wins Indonesia Fast Growing New Public Company 2018 Award
Public News|July 31, 2018
Jakarta, 31 July 2018 – PT Cikarang Listrindo Tbk (POWR) was given an award as one of Indonesia's Fast Growing New Public Companies in 2018 in the category of Infrastructure, Utility, and Transportation in an appreciation night titled "Indonesia Best Public Companies Award 2018", organized by Warta Ekonomi in Mawar Ballroom, Balai Kartini, Jakarta, July 31, 2018.
"Indonesia Fast Growing New Public Company 2018" is awarded in appreciation to companies that were able to give a positive performance among other publicly listed companies that conducted their IPO in the same industry in the past few years. The candidates are determined based on their annual report and evaluation by Warta Ekonomi research team on each company's stock condition in the capital market.
Indonesia's economic growth in the first six months of 2018 reached 5.17%, in which the largest contribution, 58.61%, came from Java Island. Moreover, electricity demand from industrial estates customers is forecast to grow in line with the Country's economic growth. The Government is to continue developing various sections of infrastructure – one of which is in Cikarang's industrial estates – such as Kertajati Airport in Majalengka which just commenced in 2018, and development of Patimban Port in Subang, Light Rail Transit (LRT) Cawang-East Bekasi-Cikarang, Jakarta-Bandung High Speed Train, monorail construction plan, and the road widening project in Jakarta-Cikampek II Toll Road which is planned to be completed in 2019-2021.
Christanto Pranata, the Company's finance director, said "We are grateful for this appreciation of the operational and financial performance of the Company. The award is an affirmation of our commitment to the public and our motivation to maintain our commitment in sustaining and improving performance as well as making a positive contribution to our country, Indonesia, in the future. Furthermore, the aggressive infrastructure development in Cikarang is expected to improve growth in industrial estates that the Company serves, and therefore it will be able to sustain its position as one of the Fast Growing Companies in the sector of Infrastructure, Utility, and Transportation in the future"