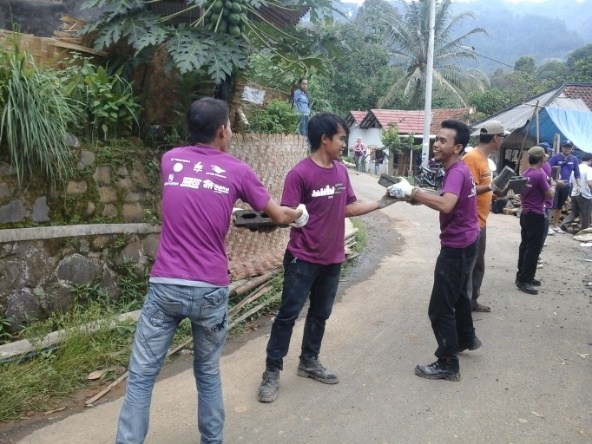 GE Indonesia and Its Partners to Build 12 Houses for Low-income Families
Public News|August 18, 2014
Jakarta, August 18, 2014 – GE Indonesia, Habitat for Humanity, PLN, Garuda Indonesia, Cikarang Listrindo and Imeco collaborated to mobilize more than 200 volunteers to build 12 houses in Karang Tengah Village, Bogor, and Joguyudan, Yogyakarta. The GE Global Community Day 2014 has entered its 11th year and is dedicated by GE Volunteers around the world to carrying out large-scale volunteer projects.
This activity was held simultaneously in 130 countries where GE operates. In this eleventh year, GE Global Community Day 2014 focused on providing adequate housing for low-income families.
"GE is committed to contribute in improving the quality of life for people and communities where GE operates through our technology and community activities, such as in the field of health, environment, education and community development," said CEO of GE Indonesia, Handry Satriago.
About 29.13 million Indonesian residents are living below the poverty line and in need of adequate housing and sanitation. GE Indonesia, in collaboration with Habitat for Humanity, a global non-profit organization that focuses on improving inadequate houses, to meet the housing needs of low-income families in Indonesia.
"This is the biggest volunteer activity we have ever done in Indonesia, and we would not have been able to do it without the presence of our customers," Handry added.
Bagus Dharmawan, Communications Manager of Habitat for Humanity, said that the initial condition of the houses was most disconcerning. "The initial conditions showed that the floor was still earthen with cubicle wall, and most of them had no bathroom, just that. Later we will build 2 bedrooms and 1 bathroom, "he explained.
Bagus continued, that to build a house, observation was needed. "Firstly we looked at the data in the village, and made observations, the land must belong to the assisted family as evidenced by a letter from the sub-district," said Bagus. (EVA)