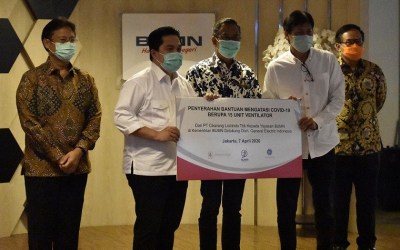 Sustainable Spirit of Cikarang Listrindo in "Light that Brings Goodness"
Public News|October 12, 2020
Jakarta, October 12, 2020 – Since PT Cikarang Listrindo Tbk (the Company) establishment in 1993, the Company always pays close attention to the achievement of a balance between economic, social and performance aspects, as contained in the triple bottom line principle, consists of people, profit and planet. The triple bottom line principle is in line with the Company's business practices along the 27 years the Company establishment. On September 23, 2020, the Company's commitment was awarded by Warta Ekonomi as the Best CSR for Indonesia CSRxPKBL Award 2020.
This award encourages the Company to continuously optimize its social responsibility programs. Now, the Company has formulated an approach to achieve the global sustainable development goals (SDGs) by initiating an action and spirit of "Light that Brings Goodness" which complements its corporate values, STAR (Service, Trustworthiness, Accountability and Reliability).
The "Light that Brings Goodness" spirit is a simple and accurate explaination of the Company's mission as an electricity company to light up the industrial customers and also Indonesian people through PLN, that further have expectation to bring goodness to its surroundings in every light produced. "Light is a basic need of human, something to look forward and hope. I believe Indonesian people are familiar with the proverb 'Habis Gelap Terbitlah Terang (Out of Darkness Comes the Light)' by R.A Kartini, since we have been taught about it at school. We, as an electricity company that identic with light, would like to bring light to our surroundings as 'Light that Brings Goodness'," said Matius Sugiaman, Commercial Director in charge of this program, in a written statement in Jakarta, Monday (12/10/2020).
With such spirit, the Company participated in the free electricity connection program to support the Ministry of Energy and Mineral Resources and PLN's programs in increasing the electrification ratio throughout Indonesia. This program is targeted at all the Indonesian underprivileged households without electricity access. The Company pledged a commitment to provide free electricity connection for 18,000 households in various regions in Indonesia. Since it was started in 2019, the Company has connected 6,859 households in various regions, including Bekasi Regency, Sumedang Regency and NTT. It is expected by the end of 2021, a total of 18,000 households have had electricity access.
The pandemic in Indonesia this year does not discourage the Company from bringing goodness to its surroundings. The Company empathizes and supports the government's efforts in handling the Covid-19 pandemic. Since March 2020, the Company has provided medical aid in forms of 11 ventilators, 3,170 hazmat suits, 8,150 face shields, 485,100 medical masks and 500 rapid test tools. The aid was handed over, through BUMN Foundation, to RS Pertamina Jaya as a state-owned hospital specializing in the treatment of Covid-19 as well as directly handed over to various health facilities, particularly around the Company's operational areas.
"Cikarang Listrindo will continue to maintain its commitment to providing the best support for Indonesia, especially during these challenging times when Indonesia is struggling to cope with Covid-19," said Matius.
Cikarang Listrindo also encourages communities to take an active role in breaking the chain of Covid-19 transmission by carrying out health protocol as established by the government.
Source: Warta Ekonomi (English version translated by the Company)