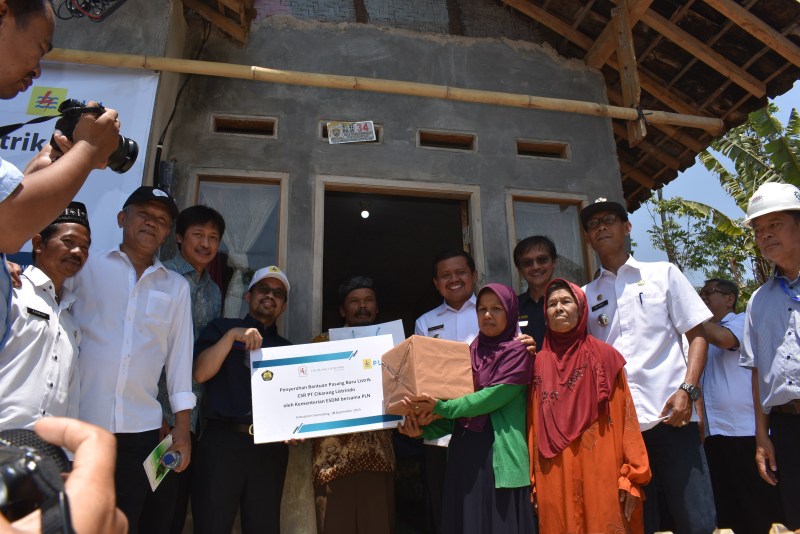 Three Thousand Houses in Sumedang Received Free Electricity Connection
Public News|September 18, 2019
Sumedang, September 18, 2019 – Three thousand houses of underprivileged communities in Sumedang Regency, West Java, received free electricity connection as the "Corporate Social Responsibility (CSR)" program from a number of companies including PT Cikarang Listrindo, as an effort to assist the government to realize an equitable energy program.
"There are three thousand (electricity connection) in Sumedang. Cikarang Listrindo together with other Companies supported this program," said the Commercial Director of PT Cikarang Listrindo, Matius Sugiaman during the ceremony of electricity installations for underprivileged communities in Ciulur Village, Tarunamanggala Village, Cimalaka District, Sumedang, Rabu.
He said that his company is ready to carry out CSR programs to help the communities, especially in new electricity connection for underprivileged communities.
His Company, he added, expressed gratitudes to the government, for their cooperation in the power generation business in West Java. "We can do this (contribution to the communities) due to the cooperation with the government. Cikarang Listrindo contributes only a small part of this program, "he said.
Director General of Electricity of the Ministry of Energy and Mineral Resources (ESDM), Rida Mulyana, who was present at the hand-over ceremony, said that the free electricity connection was part of the government's effort to involve a number of companies including PLN, PT Cikarang Listrindo and other companies to help people get electricity network facilities. "Ensuring this program can run smoothly and on target, to create an equitable energy," he said.
He said, so far there are still around 710 thousand households that have not received an independent electricity network. For that reason, the connection aid program can help people to get electricity facilities. He said that the budget for the new electricity connection program in Sumedang Regency was not from the State Budget, but from companies, one of which was PT Cikarang Listrindo.
"There are 11,500 households assisted by Cikarang Listrindo, not only in Sumedang. The Company also did the same contribution in NTT (East Nusa Tenggara)," said Rida.
Sumedang Regent, Dony Ahmad Munir, expressed his gratitude for channeling the program for new electricity connection for the underprivileged communities in Sumedang Regency. He said, the new connection provided by the Company through ESDM was three thousand households spread across several areas in Sumedang. "We express our gratitude, very grateful that today the Company's representatives are present to ensure the program is right on target, with more than three thousand connections," he said.
Wahyudin (35), a recipient of the new electricity connection said that he did not expect to receive the support for new electricity connection. So far he hitch onto other houses which already independently connected.
He, his wife and two children informed that they have lived in the house on stilts for 11 years. With the Aid of this electricity, they feel more comfortable and safer to get light at night. "So far, we only hitch onto other houses, sometimes the cables are damaged. After this electricity installation, it feels safer," he said. He expressed his gratitude to the Sumedang Regency Government, PLN, ESDM and PT Cikarang Listrindo for the support for the underprivileged. "Now by this program (it) becomes light, thank you for helping," said Wahyudin, a tofu factory worker who was accompanied by his wife, Dede (30).
source: Antara News (English version translated by the Company)